Kim Casebeer: Composition of the Landscape | July 26-30, 2020
Kim Casebeer: Composition of the Landscape | July 26-30, 2020
Emphasis on Composition of the Landscape. Start outside painting plein air, then move into a studio setting to work out composition and design. Beginner to Advanced levels; student should have basic knowledge of drawing and painting.
Check In: Sunday, July 26th, 2020 | Check Out: Thursday, July 30th, 2020
Tuition + Meals: $1,000 per person
With Shared Lodging Package: $1,500 per person
With Private Lodging Package: $1,920 per person
Book Your Retreat
Will a companion be joining you who is not attending the retreat?:
A 5.5% tax on tuition/meals will be added to the retreat rates displayed online. Deposits will not include tax and will be applied to overall retreat registration fees. Guests making a deposit online will receive follow-up written communication showing applicable remaining fees, including taxes.
Full payment of any remaining fees is due 60 days prior to the retreat start date. New registrations made less than 60 days prior to the retreat start date will require full payment of all retreat related registration fees.
Do you have a companion who would like to join you for the Bayfield experience without attending the educational components?. Companion Rates are available for one companion over the age of 18 and one per registered retreat participant. Companion rates entitle the companion to lodging, all retreat package meals, and use of Wild Rice Retreat facilities.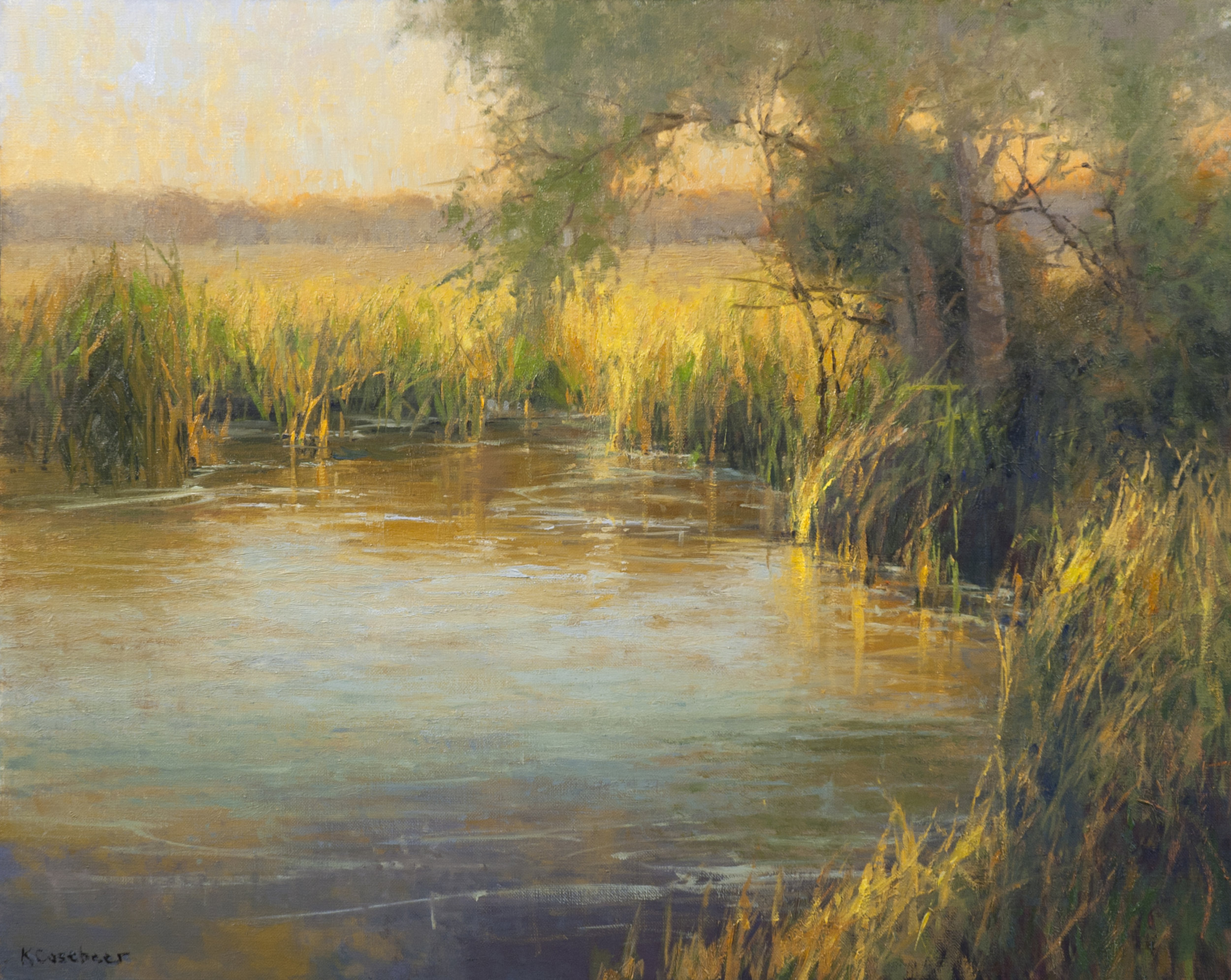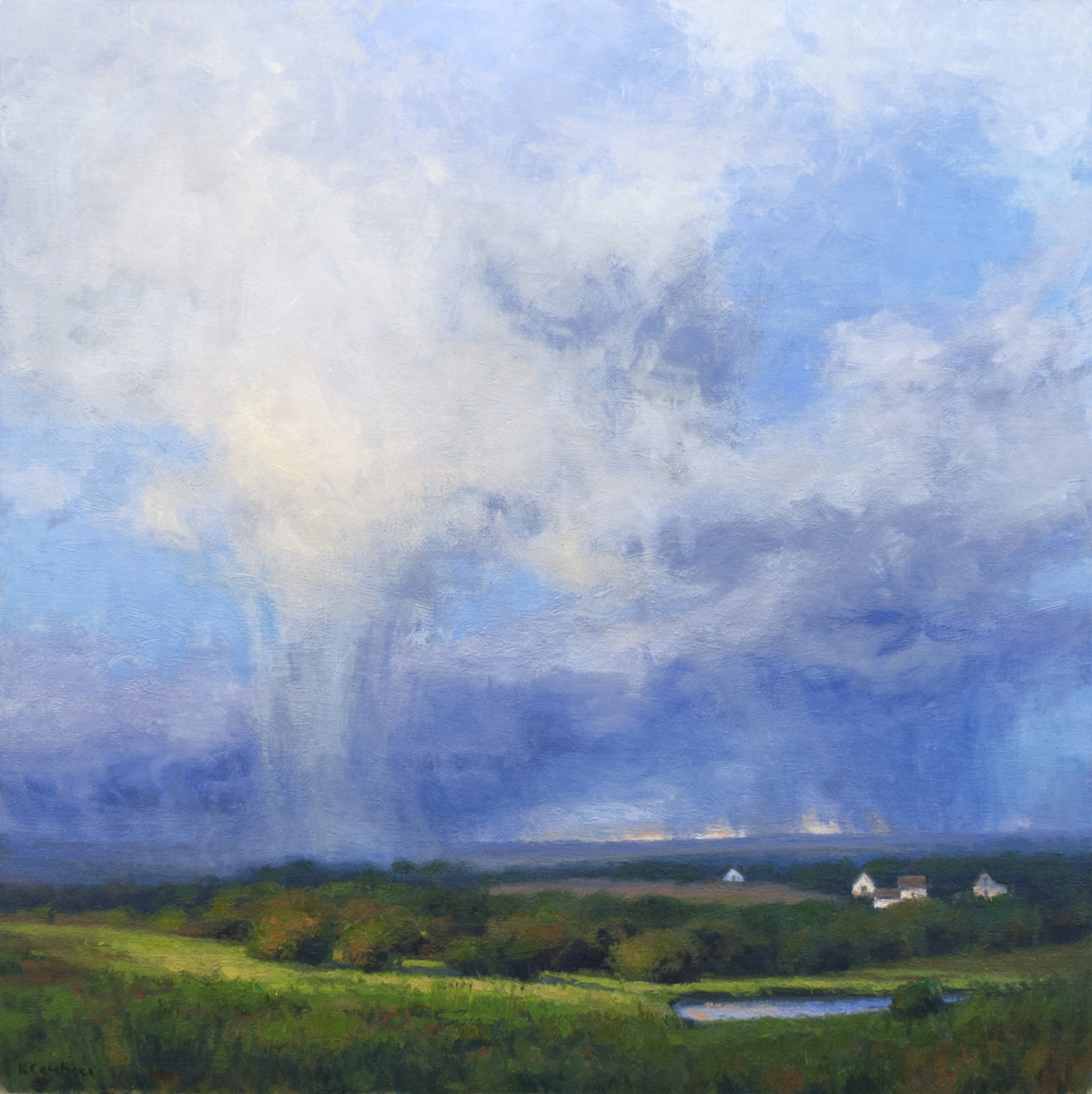 CLASS DESCRIPTION
The best paintings start with the foundation of strong composition and design that can be contemplated more thoroughly in a studio environment, then they add the fresh brushwork of a plein air that reminds you of the light, atmosphere and excitement of the outdoor experience.
In this workshop, we start by going outside to gather information in order to experiment with a variety of compositions. We will break down the landscape into: line, shape, value, temperature of color, intensity of color, and quality of mark (texture). It's important to understand each aspect and look at the landscape in this order. What inspired you to paint a particular scene? Concentrating on this one idea will help you through the painting process.
Drawing exercises such as notans and value sketches using design markers, and painting exercises such as quick color studies will reinforce these important elements. Kim will offer demonstrations and lots of individual attention at the easel. We will also conclude most painting days with a group discussion in a positive environment so that we can learn from each other's work.
This retreat is open to both oil and pastel painters.
BIOGRAPHY
As part of a fourth generation farm family, Kim Casebeer has felt a connection to the landscape for a long time. Kim now travels across the United States to gather material, but believes the simplicity of the Kansas landscape has helped her find the essence of other places and focus on what's important in a composition.
Kim received her Bachelor of Fine Arts Degree from Kansas State University in 1992. Kim is a Master Signature Member of the American Women Artists, and a Signature Member of the Oil Painters of America as well as the Pastel Society of America. She has been featured in magazines such as Art of the West, Plein Air Magazine, Southwest Art, and Fine Art Connoisseur.
Kim received Honorable Mention in the overall 2012-2013 PleinAir Salon Magazine competition. She won Best of Show at the 2010 Nomadas del Arte National Invitational Exhibit She received Honorable Mention in the Landscape Category in the 2013-2014 Art Renewal Center's Salon and an Award of Excellence in the 2014 Western Regional Oil Painters of America Show in Carmel, California. Kim received the Ted Goerschner OPAM Memorial Impressionist Award of Excellence in the 2015 National Oil Painters of America Exhibition. Her piece was the winner in the Master Class Division in the March 2017 Art Muse Contest. Her plein air piece, "Oxbow Triptych," received the Superintendent's Award at the 2018 Plein Air for the Park in the Grand Tetons and is in the park's permanent collection.
Kim has work in private, corporate and museum collections throughout the United States. She is represented by galleries in Arizona, Wyoming, New Mexico, Oklahoma, Montana, Kansas and Missouri.
contact // kim.casebeer@gmail.com
web // https://kimcasebeer.com/

Lodging and Meal Rates & Info
All lodging costs listed are per person/per night costs. Due to the format of retreats, meal plans are required of all participants to maximize time with other students and instructors, while still providing time to explore Bayfield and the surrounding community. Please reference the cancellation policy as needed.