Skip to Content
Book Now
Select Experience
For guests seeking a self-curated getaway
For guests seeking an instructor-led retreat
Unsure of which experience is right for you? learn more
A Midwestern Sanctuary
Only a mile from the downtown Bayfield, Wisconsin, and perfectly placed along the shoreline of Lake Superior, Wild Rice sits on the edge of slow-paced living, intentional innovation and natural beauty. Often called "The Gateway to The Apostle Islands," this Midwestern locale continually finds its spark and imagination by simply letting nature take the lead.
Getting Here
From Chicago
If you are coming from Chicago, there are several direct flights that put you close to Bayfield, WI. Take a direct flight to Duluth (DLH) and drive 1hr 45mins or take a direct flight to Ironwood (IWD) for a 1hr drive to Bayfield.
From Minneapolis
Located just under 4hrs from Bayfield, we highly recommend taking the scenic drive to Wild Rice Retreat. However, if you want to make the journey a little shorter, you can also opt to take a direct flight from Minneapolis to Ironwood (IWD) and drive 1hr to Wild Rice Retreat.
7hrs 25min
from bayfield, wisconsin
to chicago, illinois
13hrs 45min
from bayfield, wisconsin
To toronto, canada
7hrs 10min
from bayfield, wisconsin
To Des Moines, iowa
5hrs 25min
from bayfield, wisconsin
To madison, wisconsin
10hrs 30min
from bayfield, wisconsin
To Detroit, michigan
10hrs 10min
from bayfield, wisconsin
To st. louis, missouri
10hrs 25min
from bayfield, wisconsin
To indianapolis, indiana
3hrs 45min
from bayfield, wisconsin
to minneapolis, minnesota
Pick a spot
01. Reception & Retreat Center
This is where it all begins—from connection and conversation to relaxation and rejuvenation.
02. Arrival Plaza
Gather in an open-air space before the day begins, between sessions or as you wind down in the evening.
03. Peace Pod
Explore yoga, mediation, retreat workshops and more in a state-of-the-art setting.
04. Wild Rice Dining
Nourish your body after time spent learning and growing with a menu of intentionally crafted offerings.
05. The Lawn
Ground yourself to the beauty of Bayfield, where the surrounding forest brings a natural sense of peace.
06. Sauna Haus
Discover a sprawling cedar sauna and rain shower looking out to the woods.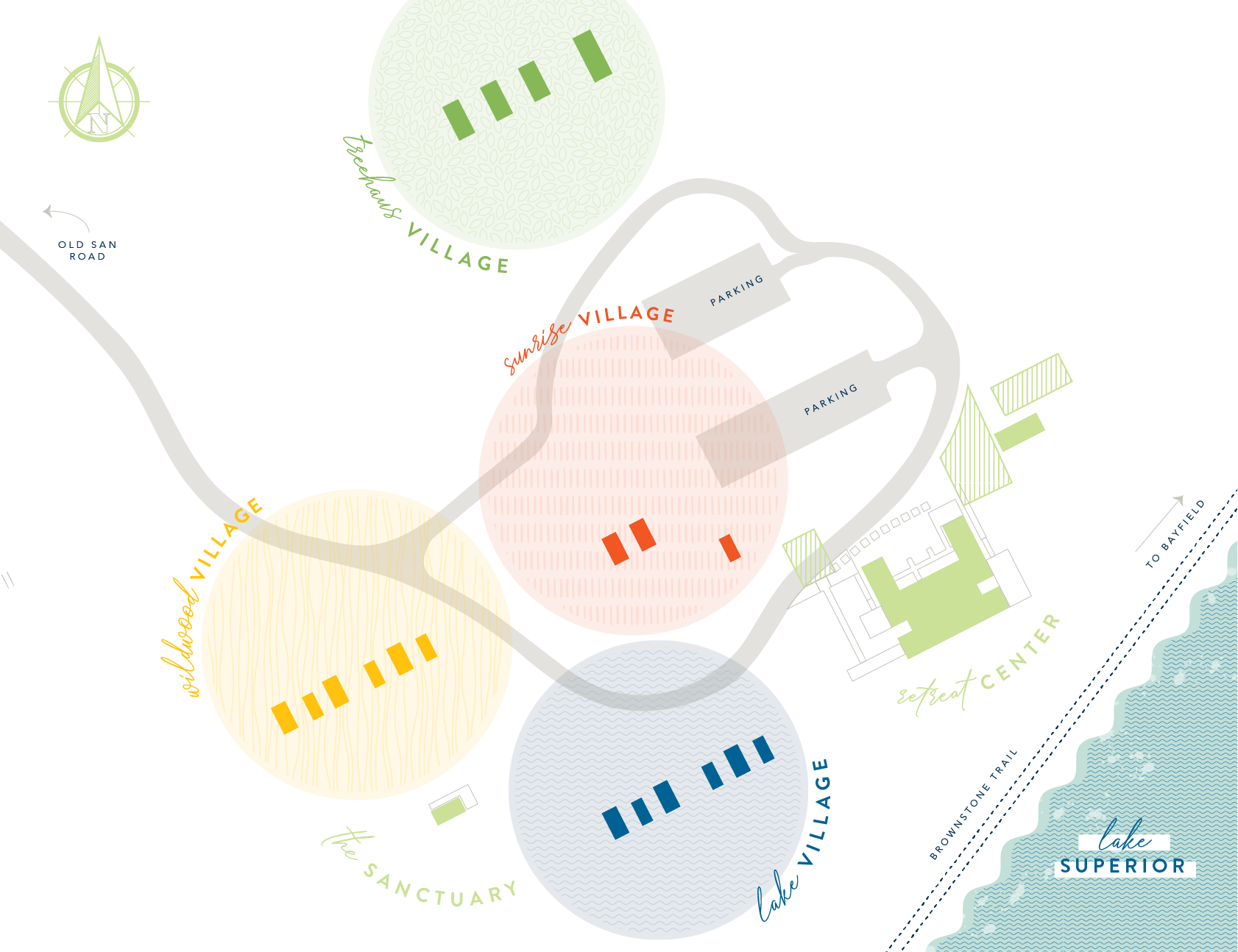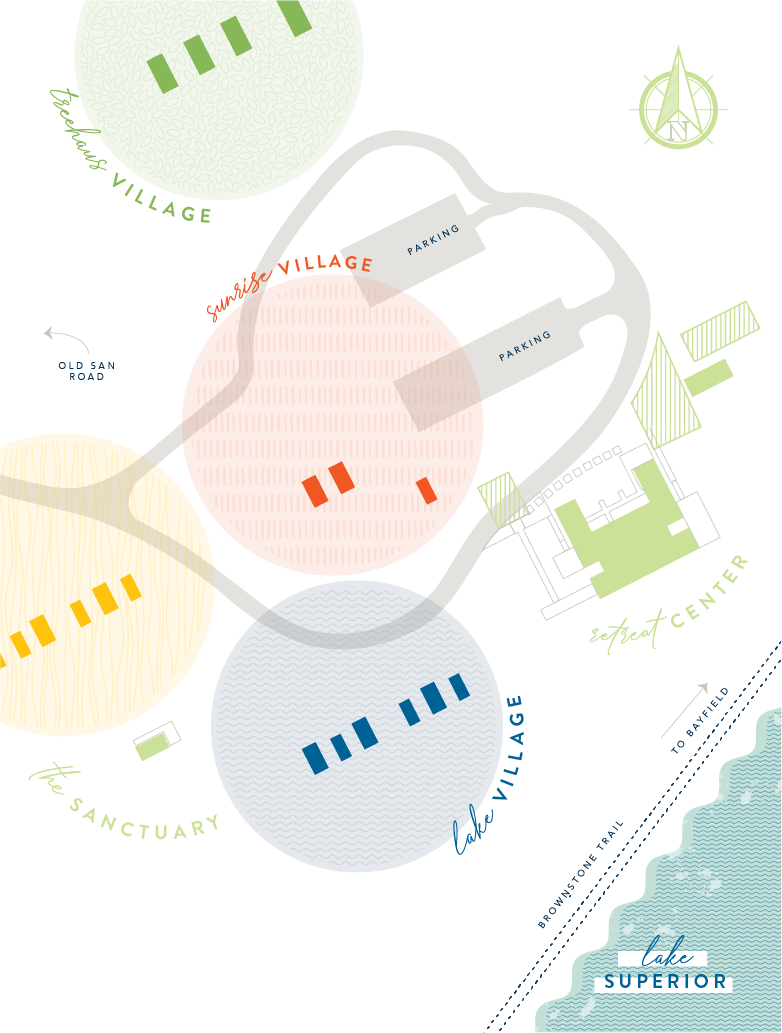 01
02
03
04
05
06
01
Your Summer To-Do List
Kayak the Apostle Islands
Visiting Bayfield and the Apostle Islands is a must-do activity for kayakers seeking an unforgettable experience. Paddle through the sparkling waters of Lake Superior and discover the cathedral-like beauty of sandstone caves.
02
Your Summer To-Do List
Visit the 'Fruit Loop'
Take a scenic journey to the picturesque bluffs of Bayfield, Wisconsin and discover an abundance of apple orchards and berry farms. Sample a variety of apples and enjoy the fresh taste of locally grown blueberries, strawberries, raspberries and blackberries.
03
Your Summer To-Do List
Take a Boat Cruise
Experience stunning views of the Apostle Islands on a narrated boat tour cruise that departs from downtown Bayfield. With several different sightseeing options available, discover the 21 islands and lighthouses that make up this unique archipelago.
04
Your Summer To-Do List
Stroll Downtown Art Galleries
Gaze in awe at the beautiful creations of various artists from all over the country that draw their inspiration from Lake Superior and its enchanting Apostle Islands. Or take a trip to Eckels Pottery and Fine Craft Gallery, one of Wisconsin's oldest pottery establishments.