Carol Soderlund: Layers Upon Layers | July 5-9, 2020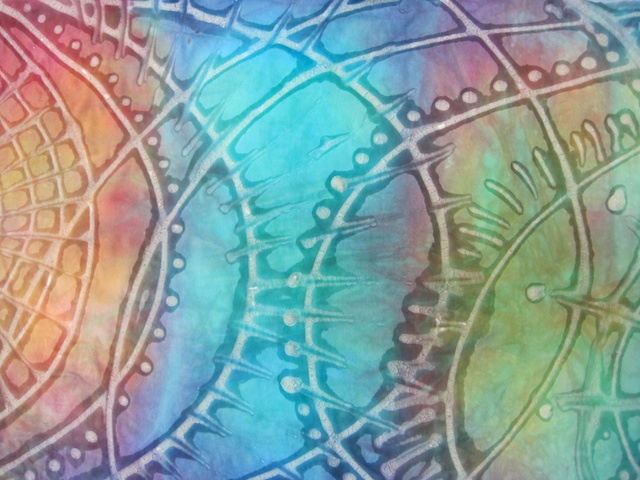 Carol Soderlund: Layers Upon Layers | July 5-9, 2020
Develop experimental approaches to the layering of color and visual texture on cloth. Advanced Beginner to Advanced levels welcome.
Check In: Sunday, July 5th, 2020 | Check Out: Thursday, July 9th, 2020
Tuition + Meals: $975 per person
With Shared Lodging Package: $1,475 per person
With Private Lodging Package: $1,895 per person
Book Your Retreat
Will a companion be joining you who is not attending the retreat?:
A 5.5% tax on tuition/meals will be added to the retreat rates displayed online. Deposits will not include tax and will be applied to overall retreat registration fees. Guests making a deposit online will receive follow-up written communication showing applicable remaining fees, including taxes.
Full payment of any remaining fees is due 60 days prior to the retreat start date. New registrations made less than 60 days prior to the retreat start date will require full payment of all retreat related registration fees.
Do you have a companion who would like to join you for the Bayfield experience without attending the educational components?. Companion Rates are available for one companion over the age of 18 and one per registered retreat participant. Companion rates entitle the companion to lodging, all retreat package meals, and use of Wild Rice Retreat facilities.
$50 supply fee due to instructor upon arrival.
CLASS DESCRIPTION
Experimental approaches, layering color, visual texture and much more.
Distressed surfaces are endlessly fascinating to artists. Weathered doorways, crumbling walls, eroding hillsides, peeling paint, and rusted metal grab our attention as they partially reveal and partially conceal. These surfaces speak of time and of process. They open the door to our inner thoughts and invite us in…
We will use natural fibers, primarily cotton and silk, both opaque and sheer. We will build layers on the cloth, considering the effects of:
layering translucent dye and opaque paint

layering value and hue

layering textures in low water immersion

layering textures created by resists

layering stitch and patch

layering opaque cloth and sheer
To develop the vision we will brush and screen, mask, spray and monoprint onto white pfd OR onto previously dyed, patched, and stitched cloth, using any or all of the following:
Procion MX fiber reactive dyes

Soy Wax

Acrylic-based paints and mediums

Discharge paste
There will be a small amount of preparatory work in advance of the class. Carol will email participants about six weeks ahead of class. Supply fee includes a wide array of media (dyes, paints, wax, dextrin and auxiliaries), tools for classroom use, and complete written instructions.
SUPPLY LIST
Fabric
PFD is cotton that is Prepared for Dyeing, that is, it has no fabric finishes, sizing, etc. that can prevent dye uptake. Unfortunately, these fabric finishes can rarely be completely removed by pre-washing, so dyeing ordinary white cloth will not give nearly as good results as dyeing pfd.
Places to order:
www.dharmatrading.com
www.prochemical.com
Bring your choice of pfd cotton, silk, linen, or rayon--or a combination of all of these—a minimum 5 yards. Sheer silk organza (one yard or more, if you like) will be useful for layering experiments. Carol will have some available for purchase. Some people love scrim and cheesecloth, too. Also bring 2-3 yards washed muslin or extra pfd to use as an under-cloth when printing.
Previously dyed fabrics (optional): If you have dyed cloth previously. bring some "dogs" -- hand-dyes that you would like to change radically by overdyeing or overprinting.
Other Supplies:
Notebook and pen

Rotary cutting mat and ruler

20+ sheet protectors for handouts

1" three-ring binder

Stapler and staples

Sharpie or other permanent marker that will write on plastic

A handful of strong rubber bands

Old clothes or a paint smock to wear

Rubber gloves--both the thin nitrile or latex ones from the pharmacy, and the heavier dishwashing kind

Old towel or paper towels for cleanups at your table

Small pair scissors or snips, seam ripper

Scissors to cut paper and plastic

6-10 cups for dye mixing (8-16 oz)

2 cottage cheese-type containers (16 oz.)

1 set measuring spoons (tsp, tbsp, etc) from the dollar store (to be used for dyeing only in future)

12 plastic picnic spoons for stirring

1 box Ziploc Freezer bags, 1 gallon size

Stamps, Thermofax screens, stencils, sponges, or other favorite tools ( I will also bring some for class use)

Flat objects for texture: Some ideas include plastic fencing, dish drainers, flat grids low relief plastic, metal, or rubber objects such as tile spacers, rubber washers, etc. Fill a Ziploc bag with them. If you have no clue about this, don't worry, because I will have lots for student use!
Silkscreens
If you have one or two silkscreens that are blank, not imaged, bring those.
If you do not have silkscreens, I will order one (or more) for you, and have it shipped in time for our workshop. Buying a screen in this manner will allow us to have a discount for a group buy, and free shipping to the workshop. This is not included in the supply fee, but you can pay me in class. In previous classes when I have done this, students really liked the convenience and value. We will be using a screen such as this one from Dick Blick:
http://www.dickblick.com/products/printers-edge-aluminum-screen-printing-frame/#description
Tools for applying wax: empty metal can for making circles, other found objects to dip into wax and stamp with such as cookie cutters, potato mashers, hardware items, etc. Again, I will have lots for student use!
Two 5 gallon buckets--if you are driving

Masking tape in 1" and 2" widths—the ordinary, not BLUE tape!

1 plastic drop cloth, at least 2 mil in thickness

3-4 brushes: a 2" foam brush and cheap bristle "chip" brushes, 2" and 3" size

(Optional) respirator equipped with acid gas or multi-gas filter if you wish to do discharging. I use the household filter from Lowe's: http://low.es/1BF1MY8
$50 materials fee due to instructor upon arrival (includes Procion MX dyes and auxiliaries, fabric paints, soy wax, many tools for student use, and complete written instructions.
BIOGRAPHY
An artist and educator for 25 years, Carol's curiosity about the range of color derived from yellow, red, and blue dyes led to her creation of her Color Mixing system for dyers. Carol encourages the freedom of mixing color by eye with results-based samples to guide the student.
A former high school teacher, Carol was nominated for Teacher of the Year in 2013 and again in 2015 by the International Association of Creative Arts Professionals.
Carol is co-author of Playful Fabric Printing with Melanie Testa. She has shown her quilts in juried venues across the country, winning awards including Best of Show at the International Quilt Festival in Houston, Texas.
contact // carol@carolsoderlund.com
web // http://www.carolsoderlund.com/
follow // Instagram Facebook

Lodging and Meal Rates & Info
All lodging costs listed are per person/per night costs. Due to the format of retreats, meal plans are required of all participants to maximize time with other students and instructors, while still providing time to explore Bayfield and the surrounding community. Please reference the cancellation policy as needed.