Skip to Content
Book Now
Robert Sturman
Mastering the Art of Photography - The Yoga of Seeing Robert Sturman
September 26 - 30, 2021
Go back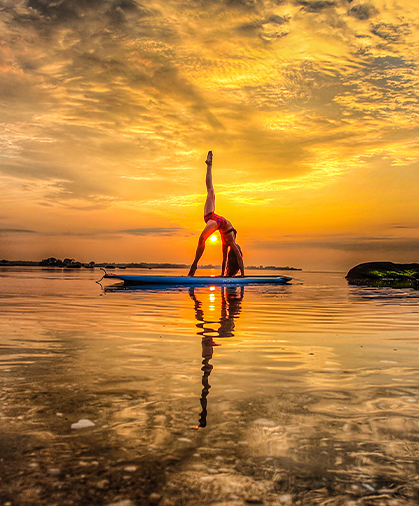 Discover the secrets of how to make powerful, poetic images using yoga as the foundation with acclaimed photographer, Robert Sturman. This retreat only uses the poetic art of yoga as a language — but the philosophy and techniques shared can be applied to all picture making once we embrace the Yoga of Seeing.



Class description
Bio
Supply List
gallery
Class description
Discover the secrets of how to make powerful, poetic images celebrating the beautiful art of yoga. Aspiring models and yogis: learn what it takes to get great pictures. Photography enthusiasts: learn about composition, balance, integration of the pose with the environment, connecting with the model, and much more.
Come be the photographer, model, artist, muse--or all of the above. Bring your camera, phone, questions, and curiosity. This course just uses yoga as the beautiful figurative poetry that we will work with during the retreat, but this class will help participants with all picture making.
Expect lectures with interactive photo shoots and a lot of fun!
Note for Students: Liz Corwin will be leading her own yoga retreat during this class, and students signing up for this retreat will have the opportunity to join her for daily morning yoga if desired. Liz's class will also be doing a photoshoot with Robert's class during the retreat. You can review the class schedule below for details!
biography
A dedicated yoga practitioner, artist/photographer Robert Sturman has increasingly focused on capturing the timeless grace and embodied mindfulness of asana in his work. His portraits, whether set in the lively streets of Manhattan, the expansive beaches and canyons of Malibu, the foothills of Mount Kilimanjaro, the timeless elegance of Walden's New England, or the bleakness of San Quentin Prison, remind us that there is beauty everywhere.
His stunning repertoire runs the gamut from yogis perched on rocks surrounded by the Pacific Ocean, to African orphans practicing yoga in Kenya, to breast cancer survivors, bare-chested and scarred. In addition, Sturman has worked extensively photographing war veterans who have embraced the practice of yoga to heal PTSD, in an effort to help change the heartbreaking statistics of veteran suicides each day.
In Sturman's own words, "I often think of Rumi's words 'I can't stop pointing to the beauty.' That feels right to me." Sturman's honors include Official Artist of the 47th Annual Grammy Awards, 2010 FIFA World Cup Artist Representing America, and Official Artist 2008 United States Olympics. Sturman has been the subject of two separate New York Times articles celebrating his photographs of yoga from around the world. Learn more at www.RobertSturmanStudio.com


Supply List
Any camera that you have is perfect, whether it is a fancy one or a phone. If using a camera other than the phone, please bring your laptop so that you can download some of your images and share them.
Gallery