Skip to Content
Book Now
Amie Heeter & Fannie Hungerford
Wild and Radiant Heart: A Yoga & Meditation Retreat
August 7 - 12, 2022
Go back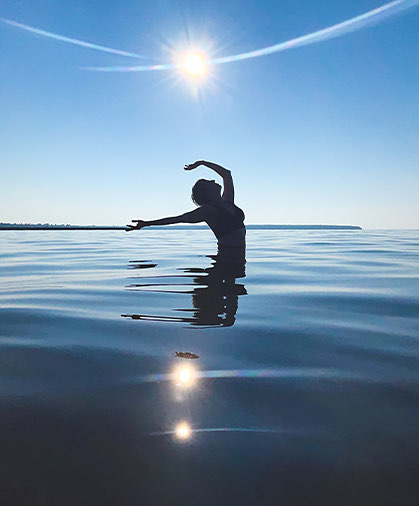 Join Fannie Hungerford and Amie Heeter for a heart quenching 5 night/6 day yoga & meditation retreat nestled along Lake Superior's shore. During summer's peak when life is bursting with fullness, let's celebrate the vibrance of the season and plant seeds of possibility. Yoga as a practice infuses renewal, replenishing our inner resources. Yoga as a sacred tradition brings us into a deeper connection with life; harmonizing our inner and outer worlds and expanding our sense of self and what gifts we have to offer.

Check In: August 7, 2022
Check Out: August 12, 2022

Tuition + Meals: $1,200
With TreeHaus Lodging Package: $2,345
With RicePod Lodging Package: $2,770
With Nest Lodging Package: $3,095
Class description
Bio
Supply List
gallery
Class description
Join Fannie Hungerford and Amie Heeter for this heart quenching 5 night/6 day yoga & meditation retreat nestled along Lake Superior's shore. During summer's peak when life is bursting with fullness, let's celebrate the vibrance of the season and plant seeds of possibility. Yoga as a practice infuses renewal, replenishing our inner resources. Yoga as a sacred tradition brings us into a deeper connection with life; harmonizing our inner and outer worlds and expanding our sense of self and what gifts we have to offer in this life.
This retreat will include several spokes on the wheel of practice, including movement, breath work, meditation, yoga nidra, self inquiry, and plenty of time to commune with nature. All levels of practitioners are welcome! Let's swim, bathe our senses in the forest, and rest with the sacred surroundings of the boreal landscape. Each day we will offer a creative weaving of practices, free time, and opportunities to explore the Apostle Islands National Lakeshore.
Amie and Fannie recognize the felt and sacred charge of this region is due in part to Lake Superior's indelible presence and also to the longtime stewards of this region known as the Red Cliff Band of Lake Superior Ojibwe. They have called this region home for millenia. A portion of received profits will be donated to the tribe to honor them and their part in protecting and shaping this place.
THREE THINGS RETREAT GUESTS WILL WALK AWAY WITH UPON RETREAT COMPLETION:
A deep sense of replenishment in body and mind after a week with yoga practice and nature's medicine
Insight into patterns and the beliefs that fuel them that hold us back from embracing all of ourselves and feeling connected to our heart's wisdom
Tools that help us feel supported as we all navigate the challenge of these times
biography
Amie Heeter is a nature enthusiast, adventurer, and life long learner particularly motivated by the intersection of mind/body traditions of the East and modern research sourced in neuroplasticity in the West. As a yoga and meditation teacher since 2004, she regards the systems of yoga, meditation, and mindfulness as some of the best technologies available to sustain health in the body, cultivate stability and resilience in the mind, and open pathways in every heart. She hosts group courses, private instruction, and regularly leads retreats regionally and abroad.
Also a lifestyle photographer, Amie is a visual storyteller who loves to capture the wonder of the world around her. She recently took part in documenting the release of wolves into Isle Royale National Park, and photographed tours she co-led in Thailand, the south of India and Morocco. She lives in Madison, WI, with her husband and two daughters.
Fannie Hungerford is a yoga and meditation teacher based in Iowa City, IA. Fannie has been teaching yoga since 2008, has trained extensively with Rod Stryker of ParaYoga, and specializes in yoga nidra and deep rest practices. Current mentors include Yoli Maya Yeh and Tracee Stanley, as well as her amazing colleagues. She relishes co-creating teachings based on who is present, what is naturally arising in the moment, and the wisdom of the earth. In addition to yoga, Fannie is a dancer and performer and is in graduate school to receive her licensure in marriage and family therapy.
Supply List
Yoga mat
Scarf or lightweight eye pill to cover the eyes during yoga nidra and blanket for covering the body
A preferred meditation cushion if already owned
Any personal props you wish to use (Wild Rice Retreat offers use of some yoga mats, blocks, mexican blankets, straps and bolsters)
Gallery