Skip to Content
Book Now
Lori Putnam
Plein air: Right, from the Start Painting Retreat with Lori Putnam
September 11 - 15, 2022
Go back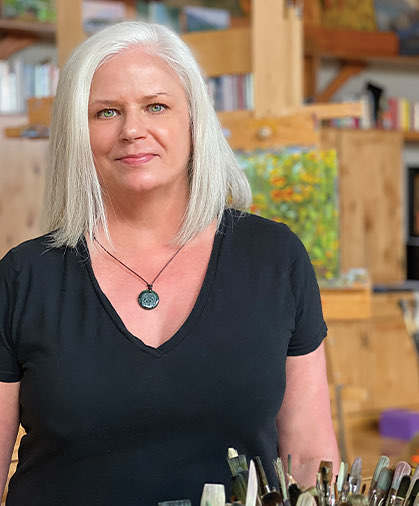 This retreat will include lectures and demonstrations; individual painting time; personalized instruction (perfect for advanced beginners, intermediate and advanced painters); and group discussions aimed to promote your progress. While demonstrations and advice on technique will be geared toward oil painters, artists who are more comfortable working in other mediums are also welcome.
Plein air experience strongly recommended.
This retreat is open to all levels.
Check In: September 11, 2022
Check Out: September 15, 2022
Tuition + Meals: $1,285
With RicePod Lodging Package: $2,301
With Nest Lodging Package: $2,561
With TreeHaus Lodging Package: $1,961
Class description
Bio
Supply List
gallery
Class description
No matter where you are in your development, you will find loads to learn during this retreat. Most failed paintings happen because of weak beginnings. In this "Right, from the Start" workshop, you will finally know how to avoid problems and paint more confidently than ever before.
Lori Putnam's sold-out workshops are a testament to her approachable, giving nature, energetic demonstrations, and hands-on teaching style. No one is more attentive to her students than Lori. Her paintings are a personal and genuine response to her subject, and she encourages her students and teaches them how to do the same. She believes that each artist sees differently and finds his or her own, distinctive mark. Yet letting go of formulas and finding the confidence to express ourselves honestly seems difficult, sometimes even fearful.
THREE THINGS RETREAT GUESTS WILL WALK AWAY WITH UPON RETREAT COMPLETION:
Students will leave this workshop excited; ready to experiment more on their own; and, above all, pointed toward meaningful, personal, artistic growth.
biography
Lori Putnam (b. 1962) began painting professionally in her mid-30s. The feel of the paint immediately ignited her love affair with the medium and she knew there was no turning back. Putnam has studied with the country's best. No stranger to hard work and dedication, she learned sound, foundational principles, which subsequently allowed her to explore her own artistic path. When viewed in a photograph, her work may appear tightly rendered. But upon seeing it in person, viewers are instantly engaged by thick, expressive paint. Putnam is rarely interested in any specific subject. Like a magnet, she is immediately attracted to natural harmonies, rhythms, and patterns. She believes it is important to draw the viewer in, then let them explore her paintings. They become artists themselves for a brief moment, and begin to see the world in a different way.
Putnam grew up in the Tennessee countryside. With no neighbors for miles, she credits her love of the outdoors and creative spirit to those many hours spent by herself as a young child. Her high school art classes became one of the first places she recognized an internal spark for drawing and painting. Prior to becoming a full-time, fine artist in 2005, Putnam owned and managed a graphic design company for 13 years. In 2008 and 2009, she and her Mark husband sold their home and belongings and traveled to the Italian countryside to live for more than seven months with the sole purpose of the painter's self-study and artistic experimentation. A catalyst for Putnam's artistic growth, the concentrated work accomplished during that period culminated in an impressive breakthrough.
Putnam has been featured in numerous issues of Western Art Collector, American Art Collector Magazine, Plein Air Magazine, Southwest Art, Fine Art Connoisseur, and Art of the West. She is a member of many respected organizations including the Salmagundi Club in New York City, the Oil Painters of America, the Portrait Society of America, and the California Art Club. Her paintings have received top awards in exhibitions associated with each of these organizations, as well as dozens of invitational events and exhibitions. In 2019 she accepted an appointment as Vice President of Art Ambassador for a Colorful World, and travels to work with children in less advantaged areas of the world. These experiences shed light on what it really means to be an artist. Putnam says, "It is finally clear to me, why I am here on the Earth. Bringing joy and laughter in the midst of the most horrific of circumstances is the true reason I have been blessed with such opportunity."
Museums, including The Tucson Museum of Art, The Brinton Museum in Big Horn, Wyoming, The Hockaday Museum of Art in Kalispell, Montana, The High Museum in Atlanta, Georgia, the Irvine Museum in California, and The Academy Art Museum in Easton, Maryland have sought out Putnam's works for awards, exhibitions, and/or permanent collection. The latest to add her work to their collection is the Irvine Museum in California.
Lori Putnam paints small to medium-sized works en plein air and creates large paintings in her studio in Charlotte, Tennessee.
Supply List
Portable Easel/equipment: You are responsible for providing your own easel. I use a Paintbook by EdgePro Gear, https://www.edgeprogear.com/paintbookstore/putnam-signature-graphite. If you want to order one, you need to allow about a month for production time.
Please use a wooden or neutral gray mixing palette (may be part of your portable easel). Do not use a white palette or palette paper.
Paints:
Bring any color palette you are comfortable with using. These are the colors I enjoy using indoors. The four colors marked with * are all you really need (especially for keeping your plein air gear lightweight). Others are optional for fun and convenience, but you can certainly make do without them.
These are all Gamblin Artists Colors available at many retailers. If ordering online, watch for sales here: https://www.trekell.com/?rfsn=5756220.65dcfd&utm_source=refersion&utm_medium=affiliate&utm_campaign=5756220.65dcfd

Cad Yellow Light*
• Cad Yellow Medium
• India Yellow
• Cad Orange
• Napthol Red* (if using a different brand, look for pigment name Naphthol AS-D, PR112 on the back of the tube.)
• Asphaltum
• Brown Pink
• Quinacridone Magenta (usually helpful for spring-flowers/still life workshops)
• Quinacridone Violet
• Dioxazine Purple
• Ultramarine Blue*
• Payne's Grey
• Cobalt Blue
• Phthalo Green
• Permanent Green Light
• Cadmium Green
• Warm White
• Titanium White*
• Radiant Turquoise
Brushes:
Do not bring old, worn-out brushes. Lori is always experimenting with new shapes and styles of brushes. Below is a list of some of the latest ones she suggests. All of these brushes are from Rosemary & Co. https://www.rosemaryandco.com?u=409db2
Minimum suggested for this workshop.
Ivory Extra Long Flat size 4, 6
Ivory Egbert size 6
Ivory Long Filbert size 6
Evergreen Egbert size 0, 4
Evergreen Long Flat size 2, 8
Optional:
Ivory Long Flat size 0
Ivory Rigger size 2
Eclipse Extra-long comber size .5 inch
Pure Sable Series 7320 size 5/8 inch
Here are three sets of brushes that you might want to explore:
Palette knife
Scrapers, brayers, etc. I do not insist on any of these. They are for useful in more-advanced classes.
Surface:
There are many good sources for surfaces. I prefer working on panels whenever possible. I like the stiffness as opposed to working on stretched canvases with "spring." One panel that I like a lot is available at from RayMarArt.com. It is the #15 dp oil linen. These are more expensive than the cotton ones, but the surface is really lovely allowing you to achieve different effects. Another option that I dearly love is the Quick Panel that EdgePro makes for their magnetic Paintbook. If you are looking for a less expensive alternative, try these pads from Multimedia Artboard, or Centurion double oil primed linen pads and some gatorboard for stapling or taping.
You will need one or two each day of the workshop, ranging in sizes from 8x10 to 12x16. Remember, you will need to have a means to transport these wet paintings home with you, so bring sizes you have wet carriers for, especially if you are flying.
Other:
Wet canvas carriers such as Raymar or PanelPak.
I use paint-tube carriers by Dagmar Solutions. They keep the tubes from puncturing each other during transport and keep the paints super handy when painting. However, they only work with certain brands of paint tops. Check them out at dagmarsolutions.com
Plein Air umbrella. I use one with a white interior from BestBrella. Unfortunately, they have just stopped making them. I am looking for a new source.
Small sketchpad and pencil or even better, Neutral Grey, Duo tipped markers, 1 each in tones 1, 4, and black sketching markers
ViewCatcher (gray plastic crop/view finder tool) available at most art stores
EMPTY, small, sealable, non-breakable, spill-proof container for mineral
Gamblin Solvent Free Gel (optional, makes the paint dry more rapidly for ease in packing)
Gamsol Artists' Grade Odorless Mineral Spirits (OMS) IF TRAVELING BY PLANE, OMS should be purchased at your final destination. DO NOT PACK AND BRING. IT IS ILLEGAL TO BRING OMS ON FLIGHTS. Do not bring contractor-grade OMS that is available at hardware stores. It is not good for you, people around you, or your paints! NOTE: If you are attending a workshop at my studio, I only allow Gamsol in my studio. It is available for purchase at the studio. Please indicate how much you want on your Participant Form.
Paper towels and bags for trash
Sense of humor
Wet-ones wipes

For your physical comfort:
Dress in layers, or bring a change of clothes, to adjust as weather changes
Wear neutral-colored tops and jackets; rain jacket
Hat, visor, or umbrella for sun or rain
Bug spray
Sunscreen
Comfortable shoes for walking and standing
Small chair, blanket, or stool for outdoor demonstrations
Bottled water and snacks
Gallery