Skip to Content
Book Now
Select Experience
For guests seeking a self-curated getaway
For guests seeking an instructor-led retreat
Unsure of which experience is right for you? learn more
Danny Saathof
Metalsmithing Techniques: Lost Wax Casting
July 11 - 15 ,2021
Go back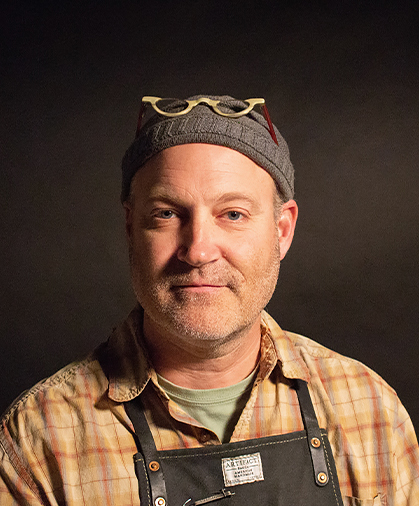 Delve into learning the lost wax method of casting metal jewelry – a method that has been in continuous use for thousands of years! Take home and least one piece of jewelry at the retreat conclusion along with the satisfaction that you created it from start to finish.
Class description
Bio
Supply List
gallery
Class description
This jewelry retreat will focus on the lost wax method of casting metal and jewelry, a method that has been in continuous use for thousands of years. Carbon dating has shown some of the earliest cast jewelry pieces to be more than 5700 years old!
Here, you will learn how to carve or sculpt with wax, invest your pieces to create a mold, heat your mold to over 1200 degrees and finally, cast your pieces with molten silver, injecting it into your mold using centrifugal force. The process is exciting, somewhat intimidating but very rewarding!
Danny Saathoff will be there every step of the way to make the process understandable and you'll come away with at least one and perhaps a couple of new pieces of jewelry that you created. You won't forget it!
THREE THINGS RETREAT GUESTS WILL WALK AWAY WITH UPON RETREAT COMPLETION:
At least one piece of jewelry
Complete intoxication for the process of fabricating a piece of jewelry from start to finish
The boundless enthusiasm to take another class at Wild Rice Retreat
biography
As both and artist and educator, I often find myself distracted by new processes and avenues of exploration. This leads me down the rabbit hole of YouTube and internet searches, followed by hours of actual experimentation, some successful and some not. My main areas of artistic expression are contemporary jewelry design and sculpture; however, my curiosity has led me to the fabrication of such item as kitchen utensils, light fixtures, and watercolor/pen and ink drawing.
Of course, these distractions fall within the realm of a broad artistic practice, but they have also led to wonderful opportunities for education. I'll see someone doing something marginally related to my core work, but if I can learn a new skill well enough to pass it along, I'll find a way to do it.
Drawing is at the heart of any arts practice, and not something I do enough. But I make the time in the summer months to do some observational watercolor and pen and ink journaling of landscapes from my travels and this is one of my favorite ways to stay creative when not in my studio.
Artists, at their very core, are curious by nature, and this is why we should never stop learning or be afraid to fail at something new.
Supply List
*tuition includes $25 supply fee
Students will have the option to cast in either bronze or silver during this retreat, and should plan to purchase this material from the instructor at the beginning of the retreat. Other materials will be supplied by Wild Rice Retreat and the Instructor.
If you have jewelry making experience, feel free to bring:
Your own saw, files, optivisor, and any other hand tools you enjoy working with.
Gallery