Skip to Content
Book Now
select retreat type
For guests seeking a self-curated getaway
For guests seeking an instructor-led retreat
Unsure of which retreat is right for you? learn more
Adrienne White & Luke Andresen
Sound and Silence: A Meditation Retreat
September 21-24, 2023
Go back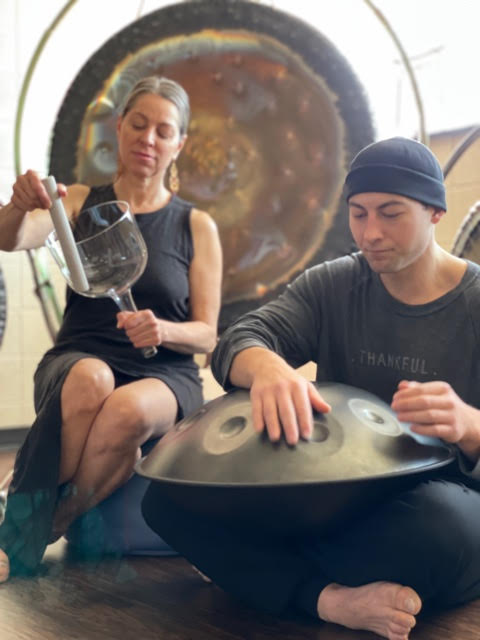 This four day retreat will include; daily yoga practice, daily lite breakfast, brunch/lunch & dinner (lovingly prepared locally), three group sound healing sessions, daily pranayama and guided meditation and two off- property excursions, not to mention; all the beauty the Wild Rice Retreat Center has to offer.
Check in: September 21, 2023
Check out: September 24, 2023
Cost: from $2,000
Please note this retreat can only be booked through the link below.
Class description
Bio
Supply List
gallery
Class description
The goal of meditation is to achieve a state of peace from within. The yoga sutras speak to this in the opening words "Yoga is the stilling of the fluctuations of the mind".
In this 4 day/3 night retreat at Wild Rice Retreat Center, you can spend the last beautiful days of summer on the Wisconsin Shores of Lake Superior, exploring various ways to reach this quiet place. We'll use the tools of yoga, breath exercises, meditation techniques, Yoga Nidra, and lot's of Sacred Sound Healing!
A variety of methodologies will be explored including; three full sound baths, Wim Hof Method Breath-Work (plus optional cold plunge and the incredible sauna at Wild Rice) Yoga Nidra meditation journeys, learning breath work that you can take home with you, and Walking Meditation in the serene landscape of northern most Wisconsin.
The land is sacred and healing, with vortices (swirling centers of energy that are conducive to healing, meditation and self-exploration) throughout the area.
The four days will include; daily yoga practice, most meals (lovingly prepared locally), all of the practices mentioned above, plus two off- property excursions- one of which will take us to the magical Apostle Islands- specifically Madeline Island and an incredible hike out to rocks that jut out over Lake Superior (jumping into the water below is completely optional)!
biography
Adrienne White is the founder of Yoga Muse- Custom Yoga, Karma Yoga Fest, and co- owner of The Collective. She is an Experienced Registered Yoga Teacher (ERYT-500) with Yoga Alliance. She is also a YCEP (Continuing Education Provider) through Yoga Alliance, and certifies students in: 200-hr YTT, 300-hr YTT, Yoga Nidra, Restorative Yoga, Stand Up Paddle Board Yoga, and Aerial Yoga. Adrienne also provides personal coaching through yogic philosophy and practice, meditation, and fasting protocols. No matter what she is teaching, true radiant health, vitality, and beautiful movement is emphasized during practice paired always with conscious breath and meditation.
Adrienne has traveled all over the world to study with some amazing teachers and she can't wait to share what she has learned over her past 30 years of practice and 1,200+ hours of training she herself has undertaken. She specializes in Tantric Hatha and Meditation (600-hours of Yoga and Meditation training w/ Zuna Yoga), (120-hours of Tantra) w/ Yoga Rupa, Rod Stryker, Vinyasa (continuing education w/ Seane Corn), Pranayama, Chakra Study (w/ Anodea Judith), Restorative Yoga, Yoga Nidra (Certification w/ Divine Sleep Yoga Nidra), Aerial Yoga, SUP+Yoga, Anatomy (Training w/ Ray Long), Kundalini, Yin Yoga, The Fire Practice (Yoga for detoxification and hormone health), Meditation in Motion (Level II Certification w/ Heather Eirling), and Level II Tantra (100-hrs) training in women's health and sexuality w/ Psalm Isadora. Adrienne has led multiple groups through 200/300-HR Yoga Teacher Trainings and international retreats and she is excited to help guide you on your yoga journey!

Luke Andresen is a Seabee veteran of Iraq and Afghanistan turned holistic health coach. His affinity for minimal intervention and natural lifestyle, free of drugs and modern crutches, has put him on this path. He has sustained multiple, severe, injuries over his life and learned to treat all of them naturally and now he works with all sorts of cool people who wish to do the same! His passion is all things strength-training, fasting, and yoga. His work with yoga has made him a more useful person to those around him, balanced his thoughts and aligned his body mind spirit. His practice blends cold water therapy, breath control techniques, strength cultivation, human movement patterns, facilitated stretching, yoga asana, pranayama, and GOING DEEP to uncover our true selves. Luke is certified through StrongFirst (SFGI), GMB Fitness, Yoga Muse 300YTT, Mindful Yoga Therapy, and past certifications as Functional Movement Specialist Level II FMS as well as multiple specialized certifications.
Supply List
Please bring a swimsuit and a cozy blanket for yoga nidra / meditation.
Wild Rice Retreat offers mats, blankets, blocks and straps if you prefer not to bring your own. Chairs are also provided for guests who require them.
Gallery