Graham Keegan: Indigo + Shibori Exploration: From Seed to Dye | July 19-23, 2020
Graham Keegan: Indigo + Shibori Exploration: From Seed to Dye | July 19-23, 2020
During this retreat you'll learn how to extract pigment from indigo leaves, and transfer its rich color onto cloth, from palest blue to deep indigo.
Check In: Sunday, July 19, 2020 | Check Out: Thursday, July 23, 2020
Tuition + Meals: $975 per person
With Shared Lodging Package: $1,475 per person
With Private Lodging Package: $1,895 per person
Book Your Retreat
Will a companion be joining you who is not attending the retreat?:
A 5.5% tax on tuition/meals will be added to the retreat rates displayed online. Deposits will not include tax and will be applied to overall retreat registration fees. Guests making a deposit online will receive follow-up written communication showing applicable remaining fees, including taxes.
Full payment of any remaining fees is due 60 days prior to the retreat start date. New registrations made less than 60 days prior to the retreat start date will require full payment of all retreat related registration fees.
Do you have a companion who would like to join you for the Bayfield experience without attending the educational components?. Companion Rates are available for one companion over the age of 18 and one per registered retreat participant. Companion rates entitle the companion to lodging, all retreat package meals, and use of Wild Rice Retreat facilities.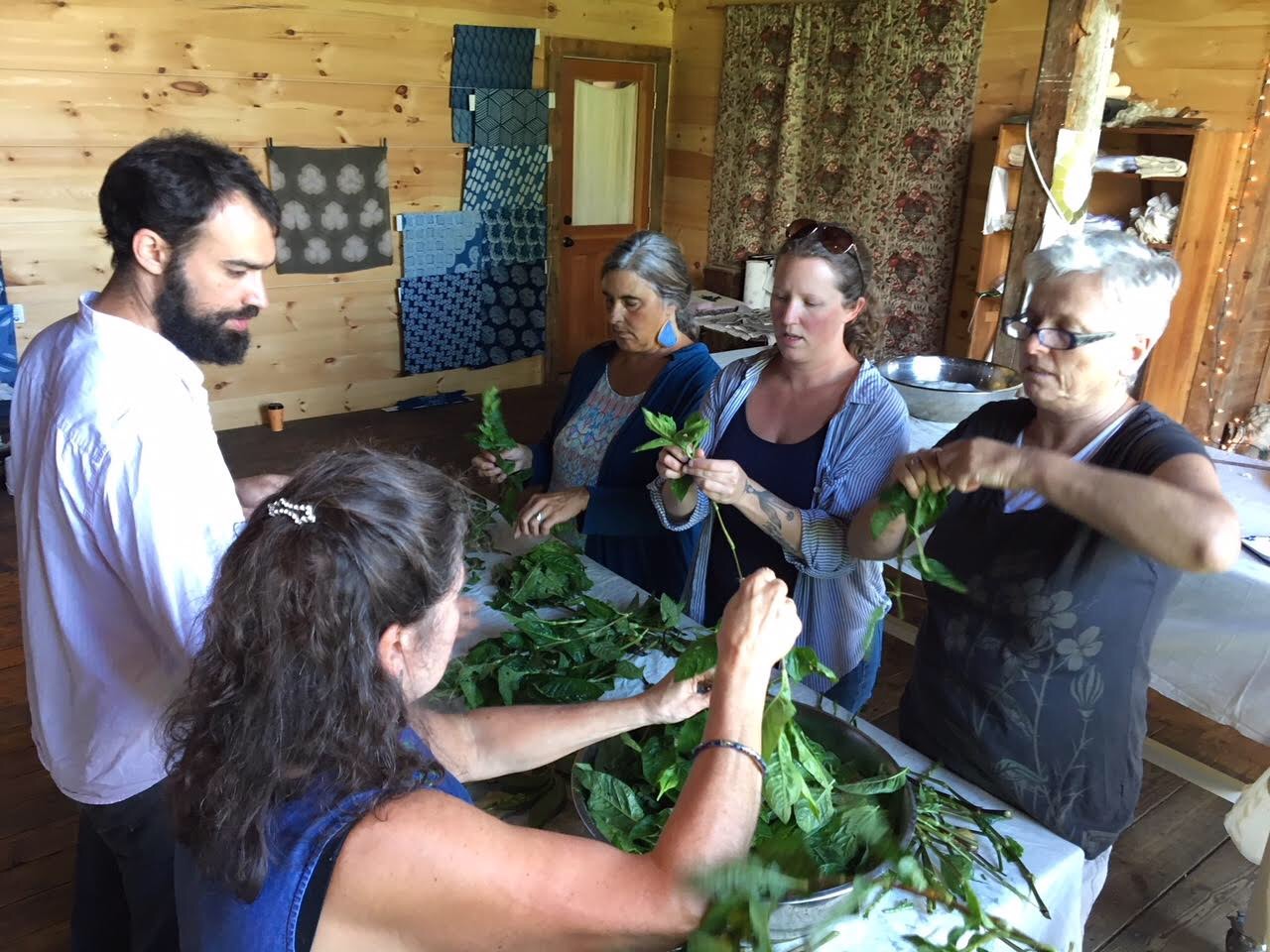 CLASS DESCRIPTION
Indigo, the pigment extracted from a multitude of plants and used worldwide to color textiles for millennia, is notoriously enigmatic. In this course, Graham will demystify the process (but maintain the magic) of working with indigo. We'll learn how to extract pigment from leaves and transfer that color onto cloth! We will dye fabrics in a range of colors from the palest blue to deep indigo. We'll learn how to fold, clamp and bind fabrics to be able to create an infinite array of patterns on cloth.
This class is recommended for all levels of experience. We will be be exploring the dye process from start to finish in a way that is exciting for novices and offers insights to even the most seasoned dyers.
SUPPLY LIST
All necessary dye, and pattern making supplies will be provided by the instructor in addition to sample cloth. Students are invited to bring their own cloth or garments to dye. Lightweight, natural fibers work best. Please no large items like towels and bedding, and avoid heavy cloths like denim and canvas. The instructor will also have fabric yardage, specifically chosen to be used for this process, available for purchase at cost.
BIOGRAPHY
Graham Keegan is a textile designer working exclusively with plant based pigments. Constantly exploring new recipes and the historical record, Graham hones and teaches natural dye processes from his workshops in Los Angeles and Vermont. He specializes in creating intricate repeat patterns using hand block printed, painted and indigo dyed textiles.

contact // keegan.graham@gmail.com
web // www.grahamkeegan.com
follow // Instagram Twitter Pinterest

Lodging and Meal Rates & Info
All lodging costs listed are per person/per night costs. Due to the format of retreats, meal plans are required of all participants to maximize time with other students and instructors, while still providing time to explore Bayfield and the surrounding community. Please reference the cancellation policy as needed.